New in Stock: Diamond Tennis Bracelets
A diamond bracelet is a tangible touch of beauty, when placed on the wrist of a woman it flows with every movement of the arm, adding a fascinating sparkle.
It's the 1987 U.S. Open and Chris Evert is in the midst of an intense tennis match when her diamond bracelet snaps off her wrist. Her gorgeous jewellry piece is somewhere on the court, and she halts the game in order to find it. This is how the "tennis bracelet" got its name.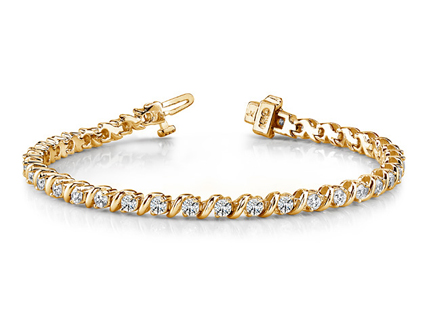 A typical tennis bracelet consists of diamonds of the same size, cut, color, and clarity set side by side continuously to make a complete circle. Flexible, durable, and comfortable, they are the go-to way to rock some sparkle in your everyday life.
If you do plan to wear it often, you might want to get one with a platinum setting, since platinum is one of the strongest metals.
One of the sexiest qualities of the tennis bracelet is the loose, flirty fit. When your arm rests at your side, the bracelet should slip down to where your wrist meets your hand. At first, you might think this is too loose, but as long as it doesn't run the risk of falling off your hand, it's a perfect fit.
If you're still unsure whether or not the fit is right, see if you can slip a finger easily in the space between your wrist and the bracelet. If you can, the fit is right. You don't want the bracelet too tight. Maybe to you that feels more secure, but it actually makes it more likely that the bracelet will give at the pressure and break off.
The biggest plus of the tennis bracelet is being able to wear diamonds on a daily basis. It should be a piece that is so easy to wear, you can go hiking, go to the opera, go to the beach, and go to the gym without worrying about it at all. So click here to get yours, because you'll love wearing this versatile bling.